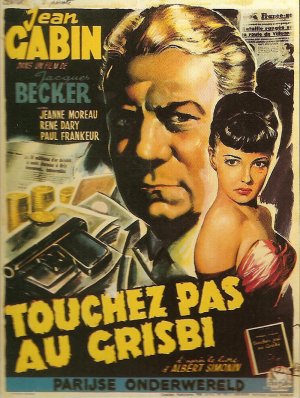 Thanks to my special lady friend, our focus on French noir continues, this time with a quiet mediation on growing old in the 1954 film Touchez pas au grisbi ("Don't touch the loot") by Jacques Becker starring Jean Gabin. The Criterion Collection's synopsis for the film on their website is as follows:
Jean Gabin is at his most wearily romantic as aging gangster Max le Menteur in the Jacques Becker gem Touchez pas au grisbi (Hands Off the Loot!). Having pulled off the heist of a lifetime, Max looks forward to spending his remaining days relaxing with his beautiful young girlfriend. But when Riton (René Dary), Max's hapless partner and best friend, lets word of the loot slip to loose-lipped, two-timing Josy (Jeanne Moreau), Max is reluctantly drawn back into the underworld. A touchstone of the gangster-film genre, Touchez pas au grisbi is also pure Becker—understated, elegant, evocative.
What's interesting about the film is that the trailer is completely misleading. It suggesters there is all kinds of explosions, gangsters marauding with machine guns, and high-speed chases—nothing could be further from the truth.
The action scenes highlighted in the trailer are all from the last 10-15 minutes of the film. The real brilliance of  Touchez pas au grisbi lies in its first hour wherein aged gangster Max le Menteur articulates the harsh realities and limits of growing old, the very thing his friend and accomplice, Riton, refuses to come to terms with. What made this film so great were the ways in which this sens of growing old was brilliantly captured in small details on film. For example, the moment when Max and Riton are hiding out in an apartment Max keeps as an investment. Rather than this becoming a scene of the two "hitting the mattresses" in some gritty dive—a scene you might expect from a noir—these two are found eating Pâté and biscuits in a luxury apartment before putting on their silk pajamas, brushing their teeth, inspecting the bags under their eyes, and then settling in for the night. I've never seen anything like it in a film noir before, the focus on the domestic elements of two gangsters past their prime moves the narrative away from the expected atmosphere of hardboiled action and dialogue and  towards a sense of homeboiled realities. Aged gangsters who become humanized through the camera's lingering on such quotidian, if not outright banal, tasks as brushing their teeth.
See the entire three minute domestication scene below:
Homeboiled: Touchez pas au grisbi from Jim Groom on Vimeo.
The film reminded me a lot of Peckinpah's The Wild Bunch (1969), a Western about a band of aging outlaws who need to start thinking "beyond their guns."  I can't help but think the one inspired the other. And to Becker's credit, he's even more insistent then Peckinpah in avoiding the urge to immortalize the outlaws, they can barely keep their eyes open after midnight. If you are looking for a meditative, understated noir about growing old and coming to term with the end through an existential  frame, I've yet to see a better take on the theme. Now to find and watch Jacques Becker's Le Trou (The Hole), a 1960 prison break film, I am officially a fan!