This is my last word on James Ellroy's The Black Dahlia because I need to write about the re-emergence of black capitalism in Walter Mosely's Devil in a Blue Dress. At the beginning of Tuesday's discussion about Devil in a Blue Dress (to be posted separately soon) we talked about the recurrence of the Joker from Chris Nolan's The Dark Knight (2008) in several student posts. Early on Jessica photoshopped the Joker's head on Bruno from Strangers on a Train to highlight his insanity. And again, when reading Ellroy's Black Dahlia, both Brenna and Jesse invoked the similarities between Betsy Short's being "slashed from ear to ear" to Heath Ledger's Joker from the Dark Knight. In fact, Brenna referred to Dahlia as the first Joker and Paul Bond (who has been nothing short of amazing in #emboiled, but that is fodder for a whole 'nother post) followed up with this comment framing a much longer history for the first Joker going back to Victor Hugo's 1869 novel The Man Who Laughs, which is actually the key to Bucky Bleichert figuring out who really murdered Betty Short. There's a portrait of Gwynplain (the mutilated character from Hugo's The Man Who Laughs whose mouth has been slashed ear to ear) that haunts Bucky. And after doing research, Jane Champion gives Bucky some history:
"It's a Frederick Yannantuono original, and it inspired by an old classic novel—The Man Who Laughs by Victor Hugo. The book was about—"

There was a copy of The Man Who Laughs in the shack where Betty Short was killed. I was buzzing so hard I could hardly hear what Jane was saying.

"—a group of Spaniards back in the fifteenth and sixteenth centuries. They were called Comprachicos, and they kidnapped and tortured children, then mutilated them and sold them to the aristocracy so that they could be used as court jesters. Isn't that hideous? The clown in the painting is the book's main character, Gwynplain. When he was a child he had his mouth slashed ear to ear. Bucky, are you all right?"

MOUTH SLASHED EAR TO EAR.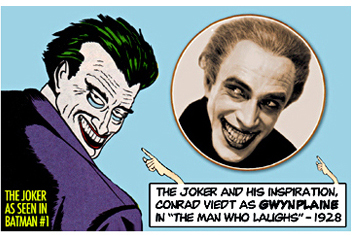 So not only does this tie into the Joker theme students have run with, but it also frames a larger literary history Ellroy is leading us to, but also French film history given the gorgeous film adaptation of the book made in 1928 starring Conrad Viedt, pictured above. I wonder how much research Nolan did when drawing Ledger's Joker along the lines of Hugo's Gwynplain—which was the original inspiration for the character Joker in the DC Comics of the 1940s. A beautiful, tangled web of cultural connections, indeed. This is when a literature class is at its very best—and its has been a ride. Despite the difficulty of doing a class well on the first run (I definitely want another go at hardboiled), the willingness of the class and the seemingly unlimited generosity of time and thoughtful participation by Paul Bond really made this experience amazing, but like I said, more on that anon.